Member News and Announcements
Email news items to news@nemca.com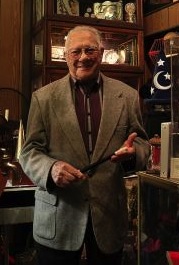 Boston magic stalwart and NEMCA co-founder Ray Goulet was recently honored by the local IBM and SAM clubs.
Ring 122 of the International Brotherhood of Magicians voted at their May meeting to change the Ring's name to the Silent Mora - Ray Goulet Ring. Ray was one of the founders of Ring 122 in 1950 and has been a member since that time. The name change recognizes his numerous contributions and devotion to magic and the IBM.
Ray was then unanimously elected Dean of the Society of American Magicians Assembly Number 9 on June 12, 2013 in recognition of his contributions and long service to the Assembly.
Ray is actively renovating and expanding the magic collection on display at Magic Art Studio. He invites magicians interested in magic history and collecting to visit the Studio.
---

Phil Schwartz has created a one of a kind discussion forum for magic collectors. The Thayer Magic site is dedicated to apparatus, books, and ephemera on magic history, and has recently featured member-contributed exhibitions on Merv Taylor, Hofzinser, and Okito-Nielsen items.
Access to the Thayer site requires an invitation from an existing member. NEMCA members can contact Dan Smith for an invitation.